<! colonna sinistra -->
Introduction

What the Hemitage over the Sea is.

Location and directions

Where is and how to reach the Hermitage over the Sea.

Information

Prices, deposit, credit card, services, reservation and cancellation policy.

Photo gallery

Pictures of the Hermitage over the Sea and of the wonderful panorama.

Information and reservation form

Form to be used for information requests and online reservation.

www.latoracca.com

A charming apartment in the very heart of Vernazza








Guide to the Cinque Terre www.cinqueterrevacanze.com

, the most complete Guide to the Cinque Terre.

Here there is just a very small part of the information available:

»

Where the Cinque Terre are

Where the Cinque Terre are and how to reach them by train, car and boat.

»

Vernazza

The village of Vernazza, the jewel of the Cinque Terre, few minutes far from the Hermitage over the Sea.

»

Watching in the Cinque Terre

Some hints to enjoy the nature of the Cinque Terre. Includes few notes on the "Cinque Terre Marine Protected Area" end the "Cetacea Sanctuary".

»

The Blue Path

A small guide on the most important track in the Cinque Terre.



<! colonne separatrici -->
<! colonna principale -->
Where is and how to reach the "Hermitage over the Sea"
The Hermitage is 500 m. from the railway station, along the "Blue Path", which connects Vernazza and Corniglia. The path is steep, and has many steps. Going uphill takes about 15 minutes walk.
The path between Vernazza and the Hermitage over the Sea.
Leave the station (1), go on about 30 mt. uphill, take a small stair (about 10 concrete steps) on the right of "Pensione Sorriso" (2). Go on for about 50 mt. towards a small valley (3). On your way you'll find the stair to the upper cilindrical stone tower (4). Next to the tower there is a terraced bar - restaurant called "La Torre"; you are now on the side overlooking the open sea. Go on for about 5 minutes: the path is now quite narrow and amazingly scenic. Before that you will meet a wooden little hut where the National Park requires a payment of 3 euro per person to cross the Blue Path (our guest are exempted for the run until the Hermitage) (5). A small green door will lead you to the hermitage: on the wall, to the left of the door, an image dated 1961. Another stair to the rock peak and you are there (6).
If you start your walk from the village place, by the chemist's shop (A), you'll see a sign "per Corniglia". Following it, after about 100 mt. you are at the stairs to the "Torre".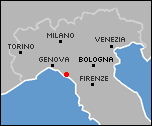 Where the Cinque Terre are.
The situation requires comfortable shoes and an essential luggage.
How to reach Vernazza
It's easy and fast to arrive to Vernazza by train.
By car yoy have to come down to the valley from the "Cinqueterre Road".
The Ligurian highway network.
In order to control traffic, the Town Council decided to install a bar about 900 mt. before the village entrance.
Parking


There are two parkings: the largest is located about 100 meters from the bar. This is surrounded, enlighted by night and unguarded.
The other is near the bar.
During the touristic season (about all year) a little shuttle between the parkings and Vernazza.